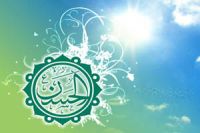 Here we present you a poem on Imam Hasan (AS), by Iran's English language poet, Dr. Hassan Najafi:
Your Name still charms this laggard age
And teaches to the envious, tolerance against rage,
In your love and guardianship is the world of soul
Where streams of peace and patience roll,
Miraculous your domain where wizard passions fly
And giant gigantic devilish follies die.
In your demeanour are discovered deposits of virtue,
Where life's prospects come perfectly true,
The peace you made never showed its face
This is enough for the charlatan Muawiya's disgrace.
What dynamic world views
In robe of peaceful calm contending hues
The one nourished on the thumb of the Prophet, I greet
And kiss the dust while walking kisses your feet.
You valued not what others thought of you
You did with all the courage what was necessary and due.
In you is hid heartfelt power of charm divine
Who can withstand your all commanding shine?
At your Name one moves with grace
Soul brought tears rolling down each face.
It is joy and endless bliss all around
Fatema, Ali, the Prophet are happy at the baby's sound.
The cheerful fields resume their green attire
A heavenly body, Hasan is born what else the eyes require?
Your towering mind determined stood
Unmoved by friends' betrayal your rectitude,
A thousand sorrows couldn't urge your end,
Nor did you show to the enemy a least yielding bend.
Like an arch your patience stood
Its spring stores this resistance as a framed wood.
Long live your love
At which we glow
With which we go
Into our swift or slow
Graves, tomorrow to show
To God what we have and what you gave.
I your humble poet named in your honour as Hassan.