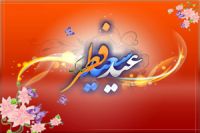 Here we present you a poem composed on the occasion of Eid ul-Fitr
Behold! Eid ul-Fitr ushers in a new dawn
The icing to the cake of fasting Ramadhan
Reward for our month-long endeavours
This is how God grants the faithful favours,
Amid rejoicing we need to take stock of things,
To see whether happiness or grief the Eid brings,
As long as Muslims are divided
No Eid or a festivity to us is provided,
True festivity lies in unity
Greatest weapon is solidarity.
Islam is our identity
Based on the firm pedestal of fraternity,
Because of its dynamism, Islam attained eternity
It is no claim – but a manifest reality,
Glorious is our past
And the present glory will certainly last.
We see how nations flourished under Islamic rule
Spread the rays of knowledge in manner calm and cool,
All equal - in ease and happy
No complaint, no sorrow nor one sorry.
In Islam Eid is manifestation of unity
All share what all feel, hence all a single entity.
Let us do soul-searching to see what is short
And attend what Islam has taught,
Prophet Muhammad immortalized God's laws,
Unlike manmade systems, the shari'ah is without flaws
So, let us celebrate Eid al-Fitr in its true spirit,
On the base of morality, with Muslim ranks tightly knit
As Imam Ali has informed us, indeed,
The day when we commit no sin is the real Eid