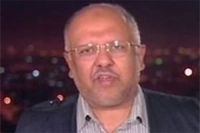 Senior Pakistani analyst on Friday said that philosophy of father of the Islamic Revolution Imam Khomeini is a source of inspiration for the Muslims around the world.
Talking to IRNA, Farhan Bokhari said that it was because of the struggle of Imam Khomeini (P) that Iranian nation achieved its destiny.
The analyst said that Imam Khomeini (P) is a historical personality who has left profound impacts on the 20th century.
The senior journalist added that Imam Khomeini (P) had brought a historic revolution in Iran which had forced the US-backed dictator to leave the government.
He went on to say that history has proved that Imam Khomeini's decision to bring Islamic Revolution in Iran was wise. He said that Islamic Revolution has made Iran a respectable nation around the globe.
Farhan Bokhari was of the opinion that Islamic Revolution has been flourishing in Iran which is a great achievement. He added that all efforts to weaken the basis of Islamic Revolution have been failed miserably.
The intellectual said that the teachings of Imam Khomeini (P) will continue to inspire Muslims around the world.
Farhan Bokhari added that the world has seen many revolutions but only the Iranian Revolution has been able to sustain itself which is a great achievement for the entire Iranian nation.
He strongly believed that the Islamic Ummah is facing problems because they are not united. The journalist said that Imam Khomeini had stressed the unity of Muslims way back more than thirty years. "Late Imam knew the power of unity of Muslims," he said.
Farhan Bokhari expressing his views said that Imam Khomeini is being highly respected among Pakistan society. "He is the most favorite leader of Pakistanis," said the analyst