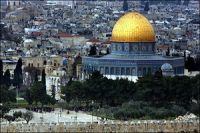 The US and Zionist regime fear the rise of Islamic Awakening and doing their utmost to derail it, said an Indian religious scholar Tuesday in New Delhi.
"When all the arrows of US and Zionist Regime failed to destroy the Islamic Awakening, they started using new weapons against it like, 'Islamic Terrorism' and 'Islamic Bombs'", said Maulana Syed Jalal Haider Naqvi, Joint Secretary, Malis Ulema-e-Hind, in a press release mailed to IRNA.
Rejecting out rightly the US and its adopted child Zionist Regime's malicious allegations, Jalal said that the current fabricated plots are clear sign of their frustration.
He also condemned the baseless allegations against Iran.
Referring to Masjid Al-Aqsa, Jalal strongly condemned the Israeli illegal occupation.
"Support of World Muslims for the Palestinian people would be the only solution to liberate Bait-ul-Moqaddas from the clutches of the Zionist regime," he added.
Indian religious scholar, who is also the president of the Shaheed Motahhari Society in New Delhi, also criticized the shift in India's foreign policy in favour of Israel regime.