Federal Republic of Nigeria, is a federal constitutional republic comprising 36 states and its Federal Capital Territory, Abuja. The country is located in West Africa and shares land borders with the Republic of Benin in the west, Chad and Cameroon in the east, and Niger in the north. Its coast in the south lies on the Gulf of Guinea on the Atlantic Ocean. The three largest and most influential ethnic groups in Nigeria are the Hausa, Igbo and Yoruba. In terms of religion Nigeria is roughly split half and half between Muslims and Christians with a very small minority who practice traditional religion.
The people of Nigeria have an extensive history. Archaeological evidence shows that human habitation of the area dates back to at least 9000 BCE.[6] The area around the Benue and Cross River is thought to be the original homeland of the Bantu migrants who spread across most of central and southern Africa in waves between the 1st millennium BCE and the 2nd millennium.
The name Nigeria was taken from the Niger River running through the country. This name was coined by Flora Shaw, the future wife of Baron Lugard, a British colonial administrator, in the late 19th century.
Nigeria is the most populous country in Africa, the seventh most populous country in the world, and the most populous country in the world in which the majority of the population is black. It is listed among the "Next Eleven" economies, and is a member of the Commonwealth of Nations. The economy of Nigeria is one of the fastest growing in the world, with the International Monetary Fund projecting a growth of 9% in 2008 and 8.3% in 2009.[7][8][9] The IMF further projects a 8% growth in the Nigerian economy in 2011.[10]
Government and politicsMain article: Politics of Nigeria
See also: Federal Ministries of Nigeria
Nigeria is a Federal Republic modelled after the United States, with executive power exercised by the president and with overtones of the Westminster System model in the composition and management of the upper and lower houses of the bicameral legislature. The current president of Nigeria is Goodluck Jonathan, who succeeded Umaru Musa Yar'Adua to the office in 2010. The president presides as both Head of State and head of the national executive and is elected by popular vote to a maximum of two four-year terms.
The president's power is checked by a Senate and a House of Representatives, which are combined in a bicameral body called the National Assembly. The Senate is a 109-seat body with three members from each state and one from the capital region of Abuja; members are elected by popular vote to four-year terms. The House contains 360 seats and the number of seats per state is determined by population.
Ethnocentrism, tribalism, religious persecution, and prebendalism have played a visible role in Nigerian politics both prior and subsequent to independence in 1960. Kin-selective altruism has made its way into Nigerian politics and has spurned various attempts by tribalists to concentrate Federal power to a particular region of their interests.[41] Nationalism has also led to active secessionist movements such as MASSOB, Nationalist movements such as Oodua Peoples Congress, Movement for the Emancipation of the Niger Delta and a civil war. Nigeria's three largest ethnic groups (Hausa, Igbo and Yoruba) have maintained historical preeminence in Nigerian politics; competition amongst these three groups has fuelled corruption and graft.[42]
Because of the above issues, Nigeria's current political parties are pan-national and irreligious in character (though this does not preclude the continuing preeminence of the dominant ethnicities).[42][43] The major political parties at present include the ruling People's Democratic Party of Nigeria which maintains 223 seats in the House and 76 in the Senate (61.9% and 69.7% respectively); the opposition All Nigeria People's Party under the leadership of Muhammadu Buhari has 96 House seats and 27 in the Senate (26.6% and 24.7%). There are also about twenty other minor opposition parties registered. The immediate past president, Olusegun Obasanjo, acknowledged fraud and other electoral "lapses" but said the result reflected opinion polls. In a national television address he added that if Nigerians did not like the victory of his handpicked successor they would have an opportunity to vote again in four years.[44]
Like in many other African societies, prebendalism and extremely excessive corruption continue to constitute major challenges to Nigeria, as vote rigging and other means of coercion are practised by all major parties in order to remain competitive. In 1983, it was adjudged by the policy institute at Kuru that only the 1959 and 1979 elections witnessed minimal rigging.[45]
Population of major citiesSee also: List of cities in Nigeria
City Population
Lagos 7,937,932      Kano 3,848,885            Ibadan 3,078,400               Kaduna 1,652,844             Port Harcourt 1,320,214                Benin City 1,051,600
Maiduguri 1,044,497      Zaria 1,018,827
States: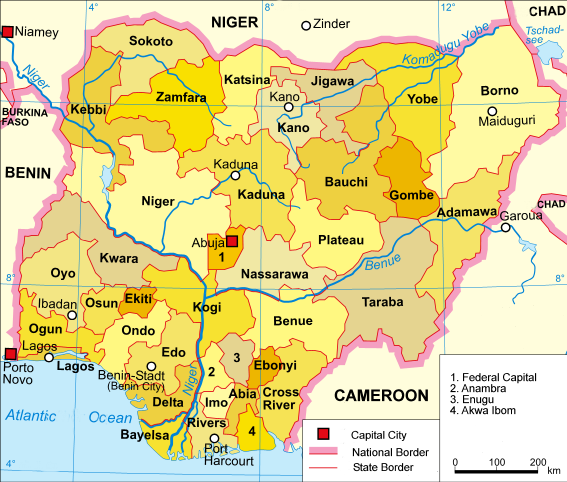 Abuja, Anambra , Enugu , Akwa Ibom , Adamawa , Abia , Bauchi , Bayelsa , Benue , Borno , Cross River , Delta , Ebonyi , Edo , Ekiti , Gombe , Imo , Jigawa , Kaduna , Kano , Katsina , Kebbi, , Kogi , Kwara , Lagos , Nasarawa , Niger , Ogun , Ondo , Osun , Oyo , Plateau , Rivers , Sokoto , Taraba , Yobe ,Zamfara
Language
Linguistic map of Nigeria, Cameroon, and BeninMain article: Languages of Nigeria
The number of languages currently estimated and catalogued in Nigeria is 521. This number includes 510 living languages, two second languages without native speakers and nine extinct languages. In some areas of Nigeria, ethnic groups speak more than one language. The official language of Nigeria, English, was chosen to facilitate the cultural and linguistic unity of the country. The choice of English as the official language was partially related to the fact that a part of the Nigerian population spoke English as a result of British colonization that ended in 1960.
The major languages spoken in Nigeria represent three major families of African languages – the majority are Niger–Congo languages, such as Yoruba, Igbo, the Hausa language is Afro-Asiatic; and Kanuri, spoken in the northeast, primarily Borno State, is a member of the Nilo-Saharan family. Even though most ethnic groups prefer to communicate in their own languages, English, being the official language, is widely used for education, business transactions and for official purposes. English as a first language, however, remains an exclusive preserve of a small minority of the country's urban elite, and it is not spoken at all in some rural areas. With the majority of Nigeria's populace in the rural areas, the major languages of communication in the country remain indigenous languages. Some of the largest of these, notably Yoruba and Igbo, have derived standardized languages from a number of different dialects and are widely spoken by those ethnic groups. Nigerian Pidgin English, often known simply as 'Pidgin' or 'Broken' (Broken English), is also a popular lingua franca, though with varying regional influences on dialect and slang. The pidgin English or Nigerian English is widely spoken within the Niger Delta Regions, predominately in Warri, Sapele, Port Harcourt, Agenebode, Ewu, and Benin City.[91]
Religion in Nigeria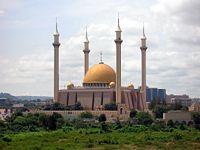 Nigeria is home to a variety of religions which tend to vary regionally. This situation accentuates regional and ethnic distinctions and has often been seen as a source of sectarian conflict amongst the population.[92] Even though, Nigeria is apparently divided equally between Islam and Christianity between north and south, it is evident that across Nigeria there is widespread belief, albeit suppressed for political reasons, in traditional religious practices.
Based on a 2009 World Religious survey (Mapping out the Global Muslim Population) 50.4% of Nigeria's population were Muslims,[93] 48.2% were Christian (15% Protestant, 13.7% Catholic, and 19.6% other Christian), and followers of other religions were 1.4%.[94] The core north is largely Muslim, there are large numbers of both Muslims and Christians in the Middle Belt, including the Federal Capital Territory. In the west of the country, especially in the Yorubaland, the population is said to be evenly divided between Muslims and Christians, while in the southeastern regions are predominantly Christians with widespread traditional beliefs, Catholics, Anglicans, and Methodists are the majority with few traditional beliefs, while the Niger Delta region is mainly Christian.[95]
The majority of Nigerian Muslims are Sunni, but a significant Shia and Sufi minority exists (see Shia in Nigeria) and a small minority of Ahmadiyya. Some northern states have incorporated Sharia law into their previously secular legal systems, which has brought about some controversy.[96] Kano State has sought to incorporate Sharia law into its constitution.[97]
Christian Nigerians are about evenly split between Roman Catholicism and Protestantism. Leading Protestant churches are the Church of Nigeria, of the Anglican communion, Assemblies of God Church, Nigeria, Redeemed Christian Church of God, the Nigerian Baptist Convention and The Synagogue, Church Of All Nations. The Yoruba area contains a large Anglican population, while Igboland is predominantly Catholic and the Edo area is predominantly Assemblies of God which was introduced into Nigeria by Gabrial Ojemekele Oyakhilome and his associates at Enugu.
Across Yorubaland in the west many people are adherents to Yorubo/Irunmole spirituality with its philosophy of divine destiny that all can become Orisha (ori, spiritual head; sha, is chosen: to be one with Olodumare (oni odu, the God source of all energy; ma re, enlighthens / triumphs).
Other minority religious and spiritual groups in Nigeria include Hinduism,[98] Judaism, The Bahá'í Faith, and Chrislam (a syncretic faith melding elements of Christianity and Islam).[99] Further, Nigeria has become an African hub for the Grail Movement[citation needed] and the Hare Krishnas.[100]