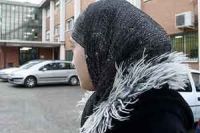 Madrid – In a discriminative act, a Spanish Muslim schoolgirl has been expelled from school during an exam after refusing to remove her Islamic headdress or hijab, school officials said.
"They told me to remove it… they humiliated me in front of my peers," she told El Mundo newspaper.
The 14-year-old girl, who lives in Madrid, decided to wear hijab this summer.
Her parents became outraged by the expulsion and described it an "abuse," reporting the case to judiciary officials.
This comes while there are no clear guidelines prohibiting the wearing of headscarves in state schools in Spain.
Muslims currently account for just over one million of Spain's 46-million population.
Muslims in Spain have been witnessing a growing trend of Islamophobia as e hostility towards the expressions of Islamic symbols and practices grows in the European state.
The discriminatory policies on the rise in Spain clearly breach the country's Law of Religious Freedom, as well as the International Human Rights law.