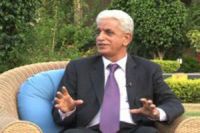 A Pakistani editor on Saturday said that peace cannot be restored in Syria until the foreign interference in the Arab state is stopped.
Talking to IRNA, Javed Siddiq editor of daily 'Nawa-i-Waqt' further said that Iran can play a significant role in bringing peace and stability in Syria.
"Peace cannot be restored in Syria without the help of Iran," he added.
The analyst termed as wise the statement of Iranian Foreign Minister Ali Akbar Salehi that Islamic Republic of Iran would spare no effort to restore peace and security to Syria.
"Tehran supports any well intentioned move aimed at putting an end to the ongoing aggressions in Syria and restoration of peace and security in that country," said Salehi.
Javed Siddiq was of the opinion that Syria has been a front line state against the Zionist aggression in the Middle East that is why it is being targeted.
The editor said that Zionist regime is presently occupying the strategically important Golan Heights of Syria. "US and its allies are creating unrest in Syria to weaken the struggle of Syria to get back the control over Golan Heights," he went on to say.
Javed Siddiq expressing his views said that US and western states want to protect the Zionist regime at all cost. He added that Syria is being targeted for pursuing anti-Zionist policies.
The editor said that the dialogue is the only way to bring peace in Syria. "Dialogue is the best way to settle disputes," viewed the analyst.
The journalist added that all stakeholders in Syria must sit together to restore peace to their country.