Singapore, officially the Republic of Singapore, is a leading global city-state and island country in Southeast Asia. It lies off the southern tip of the Malay Peninsula, one degree (137 km; 85 mi) north of the equator, and is separated from Peninsular Malaysia by the Straits of Johor to the north and from Indonesia's Riau Islands by the Singapore Strait to the south. Singapore's territory consists of the diamond-shaped main island and more than 60 significantly smaller islets. Since the 1960s, ongoing land reclamation projects have increased Singapore's land area, which is highly urbanized, by at least 20%.
Singapore has a tropical rainforest climate with no distinctive seasons, uniform temperature and pressure, high humidity, and abundant rainfall. Temperatures usually range from 22 to 35 °C (72 to 95 °F). Relative humidity averages around 79% in the morning and 73% in the afternoon. April and May are the hottest months, with the wetter monsoon season from November to January. From July to October, there is often haze caused by bush fires in neighboring Indonesia, usually from the island of Sumatra. Although Singapore does not observe daylight saving time (DST), it follows the GMT+8 time zone, one hour ahead of the typical zone for its geographical location.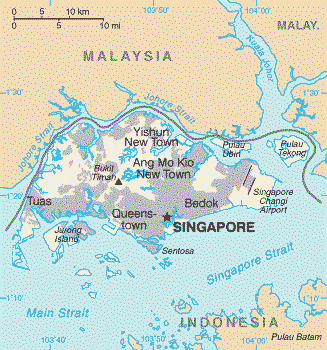 The islands were settled in the second century AD and subsequently belonged to a series of local empires. Modern Singapore was founded in 1819 by Sir Thomas Stamford Raffles as a trading post of the East India Company with permission from the Johor Sultanate. The British obtained sovereignty of the islands in 1824, and Singapore became one of the British Straits Settlements in 1826. Occupied by the Japanese during World War II, Singapore became independent from the United Kingdom in 1963 and united with other former British territories to form Malaysia, from which it was expelled two years later through a unanimous act of parliament. After experiencing some turbulence in its early years as a nation, Singapore embarked on a path of development, earning recognition as one of the Four Asian Tigers.
About 5.5 million people live in Singapore (as of end-June 2014), 3.4 million of whom are citizens and the remaining 2.1 million are foreign nationals (consisting of 0.5 million permanent residents and 1.6 million non-permanent residents). According to the country's most recent census (in 2010), nearly 23% of Singaporean residents (i.e. citizens and permanent residents) were foreign born (which means about 10% of Singapore citizens were foreign-born naturalized citizens); if non-residents were counted, nearly 43% of the total population were foreign born. As an immigrant country with numerous links to the global economy, Singapore is one of the most globalized countries in the world.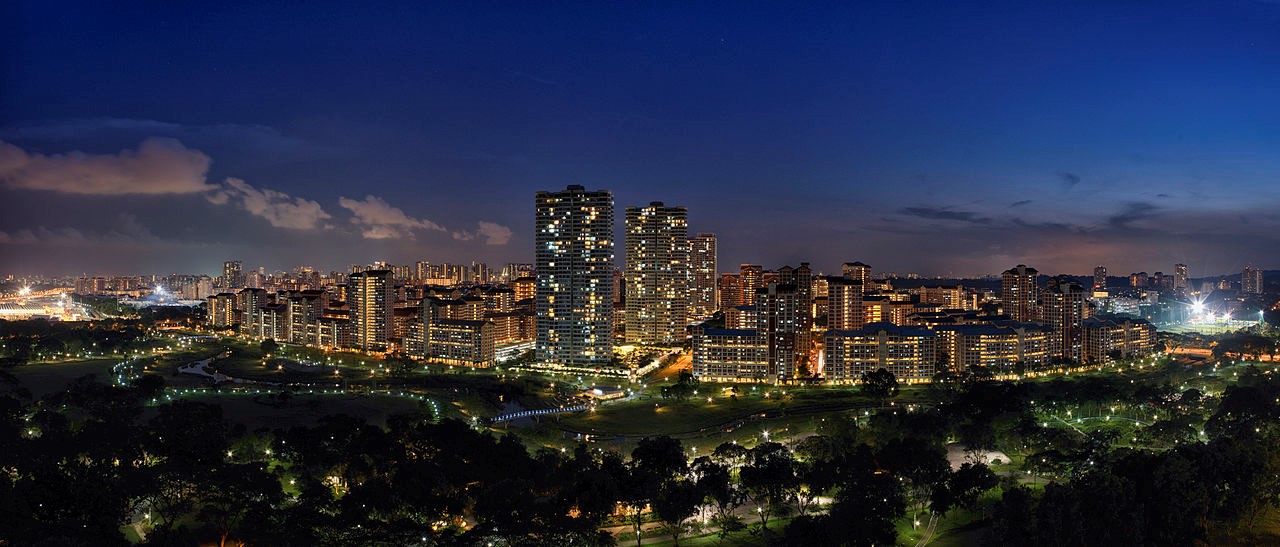 High-rise HDB flats and condominiums overlooking Bishan Park
Singapore is an ethnically diverse country, where ethnic Chinese Singaporeans predominate with about 74.1% of the resident population, followed by significant minorities of Malays (13.4%), Indians (9.2%), and Eurasians. There are four official languages: English, Malay, Mandarin, and Tamil. English is the common language of the country. Singapore promotes multiculturalism through a range of policies.
Singapore is a unitary multiparty parliamentary republic, with a Westminster system of unicameral parliamentary government. The People's Action Party has won every election since self-government in 1959. One of the five founding members of the Association of Southeast Asian Nations (ASEAN), Singapore is also the host of the Asia-Pacific Economic Cooperation (APEC) Secretariat, and a member of the East Asia Summit, the Non-Aligned Movement, and the Commonwealth of Nations. Singapore has significant influence on global affairs relative to its size, leading some analysts to classify it as a middle power. It is ranked as Asia's most influential city and 4th in the world by Forbes.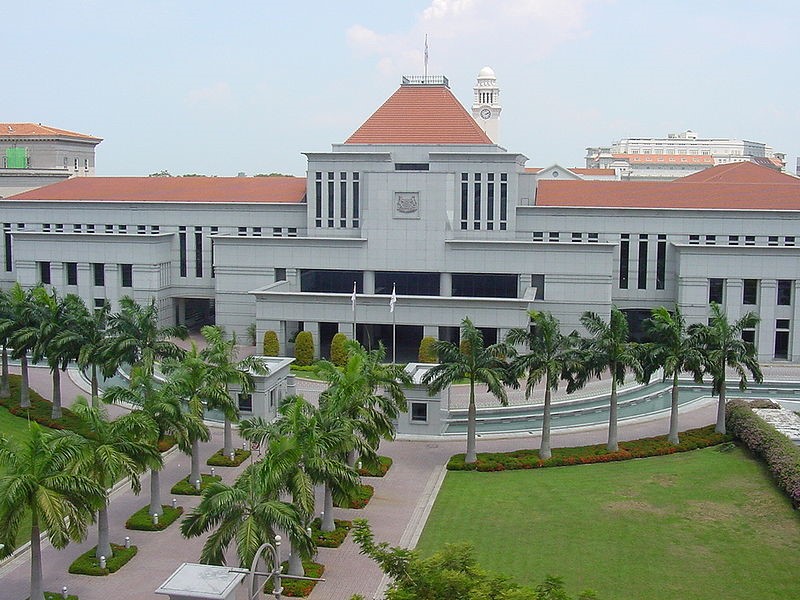 Singapore's Parliament House
Singapore's foreign policy is aimed at maintaining security in Southeast Asia and surrounding territories. An underlying principle is political and economic stability in the region. It has diplomatic relations with more than 180 sovereign states. As one of the five founding members of ASEAN,[55] it is a strong supporter of the ASEAN Free Trade Area (AFTA) and the ASEAN Investment Area, because Singapore's economy is closely linked to that of the region as a whole. Former Prime Minister Goh Chok Tong proposed the formation of an ASEAN Economic Community, a step beyond the current AFTA, bringing it closer to a common market. This was agreed to in 2007 for implementation by 2015. Other regional organizations are important to Singapore, and it is the host of the APEC Secretariat. Singapore maintains membership in other regional organizations, such as Asia–Europe Meeting, the Forum for East Asia-Latin American Cooperation, the Asian Network of Major Cities 21, and the East Asia Summit. It is also a member of the Non-Aligned Movement and the Commonwealth.
In general, bilateral relations with other ASEAN members are strong; however, disagreements have arisen and relations with neighboring Malaysia and Indonesia have sometimes been strained. Malaysia and Singapore have clashed over the delivery of fresh water to Singapore, and access by the Singapore Armed Forces to Malaysian airspace. Border issues exist with Malaysia and Indonesia, and both have banned the sale of marine sand to Singapore over disputes about Singapore's land reclamation. Some previous disputes have been resolved by the International Court of Justice. Piracy in the Strait of Malacca has been a cause of concern for all three countries. Close economic ties exist with Brunei, and the two share a pegged currency value.
The first diplomatic contact with China was made in the 1970s, with full diplomatic relations established in the 1990s. Since then the two countries have been major players in strengthening the ASEAN–China relationship. Singapore and the United States share a long-standing close relationship, in particular in defense, the economy, health, and education. The United States was Singapore's third largest trading partner in 2010, behind China (2nd) and Malaysia (1st). The two countries have a free-trade agreement, and Singapore views its relationship with the United States as an important counterbalance to China's influence. A Strategic Framework Agreement between the two, signed in 2005, formalizes security and defense cooperation. Singapore has pushed regional counter-terrorism initiatives, with a strong resolve to deal with terrorists inside its borders. To this end it has given support to the US-led coalition to fight terrorism, with bilateral cooperation in counter-terrorism and counter-proliferation initiatives, and joint military exercises.
Singapore is an education hub, and many foreign students study in Singapore. More than 80,000 international students studied in Singapore in 2006. Every morning, more than 5,000 Malaysian students cross the Johor–Singapore Causeway for education in Singapore. In 2009, 20% of all students in Singaporean universities were international students. The students were mainly from ASEAN, China and India.
Education for primary, secondary, and tertiary levels is mostly supported by the state. All institutions, private and public, must be registered with the Ministry of Education. English is the language of instruction in all public schools, and all subjects are taught and examined in English except for the "mother tongue" language paper. While the term "mother tongue" in general refers to the first language internationally, in Singapore's education system, it is used to refer to the second language, as English is the first language. Students who have been abroad for a while, or who struggle with their "Mother Tongue" language, are allowed to take a simpler syllabus or drop the subject.
Education takes place in three stages: primary, secondary, and pre-university education. Only the primary level is compulsory. Students begin with six years of primary school, which is made up of a four-year foundation course and a two-year orientation stage. The curriculum is focused on the development of English, the mother tongue, mathematics, and science. Secondary school lasts from four to five years, and is divided between Special, Express, Normal (Academic), and Normal (Technical) streams in each school, depending on a student's ability level. The basic coursework breakdown is the same as in the primary level, although classes are much more specialized. Pre-university education takes place over two to three years at senior schools, mostly called Junior Colleges.
Some schools have a degree of freedom in their curriculum and are known as autonomous schools. These exist from the secondary education level and up.

Buddhism is the most widely practiced religion in Singapore, with 33% of the resident population declaring themselves adherents at the most recent census. The next-most practiced religion is Christianity, followed by Islam, Taoism, and Hinduism. 17% of the population did not have a religious affiliation. The proportion of Christians, Taoists, and non-religious people increased between 2000 and 2010 by about 3% each, whilst the proportion of Buddhists decreased. Other faiths remained largely stable in their share of the population. An analysis by the Pew Research Center found Singapore to be the world's most religiously diverse nation.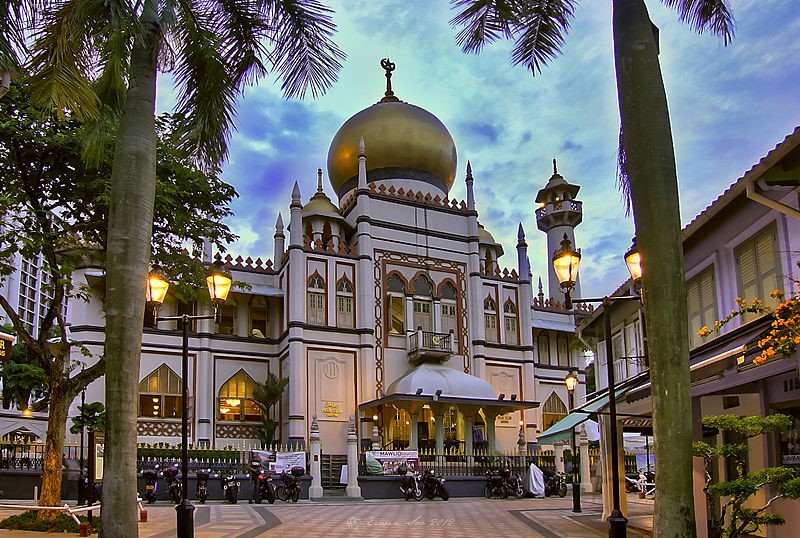 Sultan Mosque in Singapore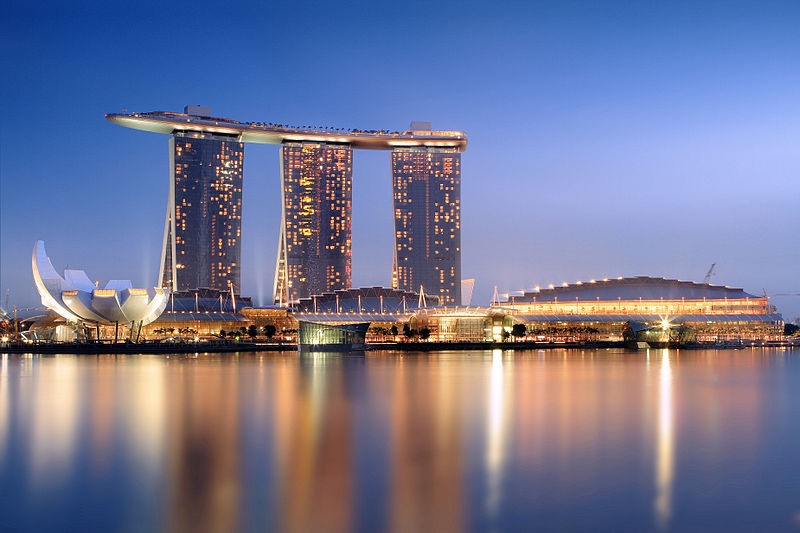 Marina Bay Sands, Singapore, the 2nd most expensive building in the world
Singapore is one of the world's major commercial hubs, the fourth-largest financial center and one of the top two busiest container ports in the world for at least the past ten years. Its globalized and diversified economy depends heavily on trade, especially manufacturing, which accounted for around 30 percent of Singapore's GDP in 2013. Singapore places highly in international rankings with regard to standard of living, education, healthcare, and economic competitiveness. Singapore has one of the highest per capita incomes. For the past decade, it has been the only Asian country with the top AAA rating from all three major credit rating agencies, i.e. Standard & Poor's, Moody's and Fitch Ratings.
Singapore's economy depends heavily on exports and refining imported goods, especially in manufacturing, which constituted 27% of the country's GDP in 2010, and includes significant electronics, petroleum refining, chemicals, mechanical engineering and biomedical sciences sectors. In 2006, Singapore produced about 10% of the world's foundry wafer output. Singapore has a diversified economy, a strategy that the government considers vital for its growth and stability despite its size.
Tourism also forms a large part of the economy, with over 15 million tourists visiting the city-state in 2014. To attract more tourists, the government legalized gambling in 2005 and allowed two casino resorts (called Integrated Resorts) to be developed. Singapore also promotes itself as a medical tourism hub: about 200,000 foreigners seek medical care there each year. Singapore medical services aim to serve at least one million foreign patients annually and generate USD 3 billion in revenue.