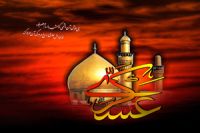 We offer our condolences once again and present you a piece of poetry on this young martyr by Iran's English-language poet, Dr. Hassan Najafi:
Your martyrdom is born to bloom
To spread and flourish from the tomb,
Like a well fashioned arch your patience stood
With your towering mind by you all the prophets stood.
Pain met you like a friend and set you free,
Affliction still is virtue's opportunity.
A blended from of a continued strife
Was the strength and harmony of your life
Gilds your name with a gleam of distant day
And enlightens our dark weary way
You spoke headlong from Faith's height
But who to hear, they had plunged to endless night.
Our need is the pencil of the Prophet in your hand
Paint our destinies and our hearts your genial land.
Glorious Imam! You are for universal reign;
Your love is our gain and you heaven's gain.
You were still in your twenty-eighth spring
You were forced to enter the martyrs' ring.
You are father of the Twelfth Imam
Whose birth was like Moses, full of alarm,
You prepared the understanding of crowds
To be familiar with the sun that will hide behind the clouds.
You acquainted the nation the rays through a veil,
To obey the Imam through oracles' reel,
You a full gem of purest ray so serene
In you many a flower is hidden to blush unseen
Chill penury of soul it is if not in allegiance to you
Spoils of sins unfold our ugly view.
Over your tomb cries of Zahra raise,
The anthem of "The Verse of Purity" showers praise.
We are in the warm precincts of a cheerful day
In your martyrdom gardens of Eden lay.
The poets praise your wondrous power
And dance forgetful of the noon-tide hour.
Your tale to their little loves, the birds explain
And weep the more because I weep in vain.