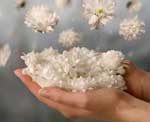 In keeping with the festive spirit of Nowrouz and Iran's glory, here is an interesting piece of poetry by Iran's English language poet, Dr. Hassan Najafi:
The days of grouse gone
We on glory, each dawn its pawn.
Sprout merits each from its matrix
The fragrance of spring the Equinox does fix.
The fusty musty, feculent fetid swept away,
Iran is now of its own, to its own, on its own sway,
Today Iran is fresh as spring
The glory the New Year does bring.
Sweet smiling Iran, loveliest of all you are drawn
Your emergent power displays both brain and brawn.
Sunk are western interests in shapeless ruin all
The grass of revenge overtops the White House wall.
Iran was ill treated and made for sins a prey
They brought their culture for moral's decay.
The pristine Islamic culture our country's pride
Resurfaced once again with a majestic stride,
The start of the New Year – a universal blissful hour
The blessings of God on us do shower.
Sanctions worthless as ever, pride attends us still
To stupefied enemies our youths show their skill.
Americans thought of making Iran a ruined land
See the alacrity of progress at our scientists' hand.
The earth beneath the load shakes
Iran onward way takes.
What call unknown? What argument doomed?
We don't break the quiet of a tomb.
From these shores, our glory Nowrouz does treat
Spring blossoms between winter's snow and summer's heat.