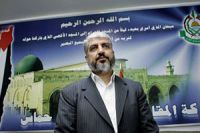 Tehran – Hamas Political Bureau Chief Khaled Mash'al has once again highlighted the role of resistance as the 'sole path' for the liberation of Palestine.
According to Press TV, speaking at the fifth International Conference on the Palestinian Intifada in the Iranian capital of Tehran, Mash'al said resistance will continue against the occupation of the Palestinian territories until the complete freedom of the entire Palestinian lands.
Hamas Political Bureau Chief hailed the Islamic Republic for taking the initiative in the instigation of the international conference in support of the Palestinians, reiterating that "today the choice (resistance) has become the only option as all other alternatives have failed" to bear fruit for the Palestinians.
He also made reference to the recent bid by Acting Palestinian Authority (PA) Chief Mahmud Abbas for the UN recognition of a Palestinian state and noted that apart from the 'symbolic move,' an independent Palestinian state could only be established on liberated territories and not on lands seized by Israeli settlers.
Mash'al further called on all Palestinian factions to unite and adopt a unified strategy in light of the recent developments to 'get rid of the Zionist (Israeli) occupation.'
The 5th International Conference on Palestinian Intifada opened in the Iranian capital to draw the attention of the international community to the issue of Palestine.
Representatives, parliament speakers and scholars from different countries as well as a number of Palestinian leaders are attending the two-day event.