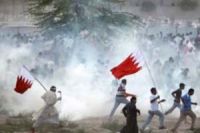 Manama – Saudi-backed Bahraini troops have attacked anti-government protesters in the island city of Sitra, killing a 14-year-old boy.
Witnesses say the victim, identified as Ali Jawad, was hit in the head by a tear gas canister fired from close range.
Reports say the city's hospital refused to admit the critically injured Ali and that the 14-year-old boy died shortly afterwards, Bahraini rights activist Maryam Al-Khawaja wrote in an e-mail to Press TV on Wednesday.
It is widely believed that hospital authorities refused to treat the wounded teenager for fear of being arrested by security forces. Since the beginning of anti-regime protests in Bahrain, hundreds of medical personnel have been detained and tortured over providing medical treatment to injured protesters.
Thousands of Bahraini protesters took to the streets on Tuesday following the Eid al-Fitr Prayers to protest against a recent speech by King Hamad bin Isa Al Khalifa about the months of anti-government protests in the Persian Gulf Sheikhdom.
Many Bahrainis believe that the king's speech was a futile attempt aimed at restoring normalcy to the country and does not address their demands.
Activists say in some areas protests had started from the previous night.
On Sunday, the Bahraini king announced in a televised speech that he would pardon some detained anti-regime protesters and called for the reinstatement of a number of employees fired from their jobs and students expelled from their colleges.
He also admitted that security forces had abused the protesters, saying that compensation would be paid to the victims of abuse and the families of those killed during anti-regime demonstrations.