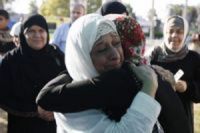 Gaza – An international aid convoy with 41 pro-Palestinian activists has reached Gaza via the Rafah border crossing to offer support and relief aid supplies to Palestinians living in the besieged territory.
According to Press TV, the humanitarian aid convoy called the "Miles of Smiles 6" entered Gaza on late Wednesday with about 100 tons of urgently needed medicines.
The activists accompanying the convoy are mostly from European, African and Asian countries.
The "Miles of Smiles 6" aims at providing medical supplies that are not available because of the ongoing Zionist regime's siege on the Gaza Strip. The convoy wants to raise awareness about the life in Gaza.
Earlier on Wednesday, separate delegations from Germany and Tunisia representing civil organizations concluded their visits to Gaza by holding press conferences in Gaza City.