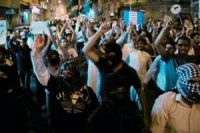 Qatif – Anti-regime demonstrations in eastern Saudi Arabia have turned violent following brutal measures taken against protesters by security forces of the US-backed kingdom.
According to Press TV, clashes broke out in Qatif and Awamiyah in the Eastern Province after security forces opened fire to disperse hundreds of protesters chanting slogans against Riyadh policies.
Several protesters, including women, were injured during the clashes.
The demonstrators called for an end to the crackdown on dissidents and demanded the release of political prisoners who were illegally detained by the regime forces.
They also condemned Saudi Arabia's military intervention in the neighboring Bahrain to assist the US-backed Manama regime with the suppression of popular anti-government protests in the tiny Persian Gulf Sheikhdom.
This comes after hundreds of Saudis took to the streets in Qatif on Sunday to protest against the detention of two senior citizens. Saudi security forces took the two men hostage in a bid to force their sons, who are wanted by Saudi authorities for participating in anti-government protests, to surrender themselves to authorities.
Witnesses say hundreds of Saudis gathered outside the police headquarters in Qatif, demanding their immediate release, but security forces dispersed the crowd using force. Many activists are reported to be injured in the violence.
Over the past months, activists in the Eastern Province have staged several anti-government protests, demanding reforms and the immediate release of political prisoners.
Human Rights Watch says more than 160 anti-government protesters have been arrested since February as part of the Saudi government's crackdown on demonstrations.
According to the Saudi-based Human Rights First Society, the detainees were subject to torture both physically and mentally.