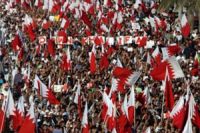 Manama – A military court in Bahrain has sentenced 14 people to life imprisonment over an alleged killing of a Pakistani national, handing down long jail terms to 22 others.
According to Press TV, the military court issued life sentences for 14 men on Monday on charges of killing a Pakistani national, Abdulmalek Ghulam Rasool, during anti-regime protest rallies in the US-backed regime back in March.
Meanwhile, six university students received 15-year prison terms for "causing violence," while another student was sentenced to 18 years in jail on a similar charge, Reuters reported.
The court also sentenced 15 others to 15-year terms behind bars for the Bahraini military judges have described as "attempted murder of a serviceman" and "inciting hatred for the ruling system."
The military court, however, has rejected pleas by attorneys of those sentenced for an independent probe into the reported torture of defendants in all three cases, said Mattar Mattar, a member of al-Wefaq, Bahrain's largest opposition group.